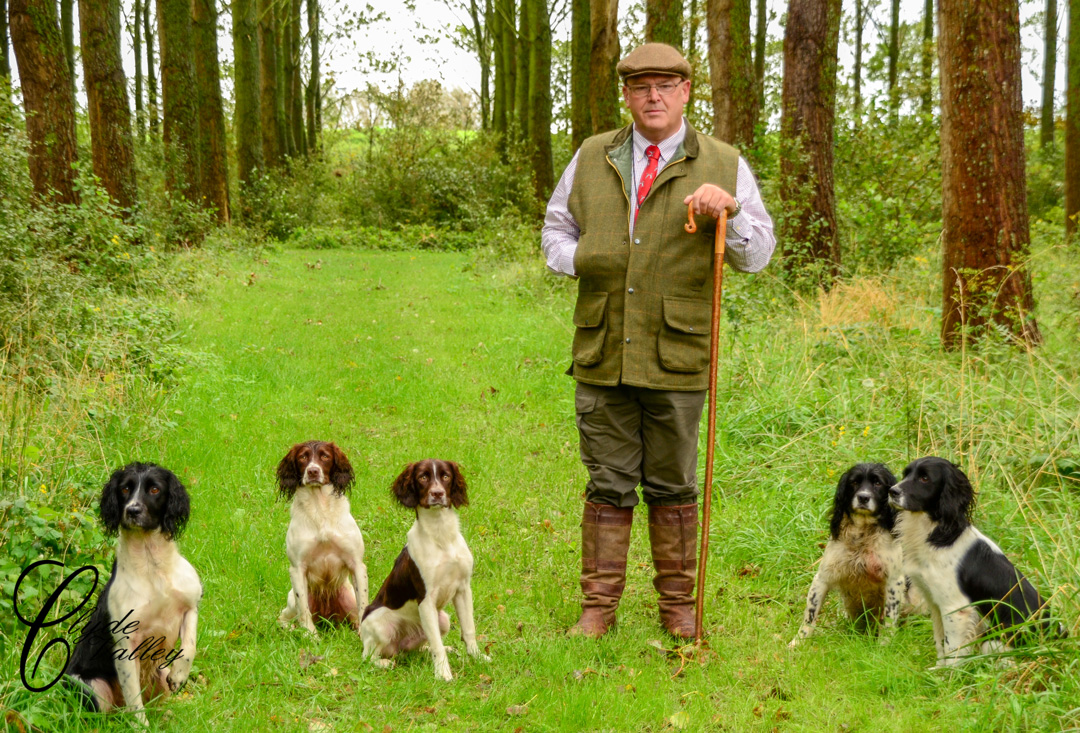 My name is Iain Barnes.  At the age of 18 years old I was successfully screened for my first shotgun  certificate.  A few friends invited me to join their shoot as a guest. This gave me the chance to learn what it was like to hunt with a gun and dog together.  After a period of time I was given the chance to work with a young springer that belonged to my friend.  That for me was the point of no return. The only problem was that I was unable to have a dog as I lived with my father and he was not willing to let me have a dog in the house.  A few years later,  I met my wife, then girlfriend and luckily she was a keen dog person. After so many years of shooting without my own dog.  I decided to ask if she would agree to having a dog in the house, and thankfully she was also keen to have a dog of our own.  After a short period on a breeders waiting list I finally had my first springer, Kez!   Kez was a very keen, honest working dog, we were inseparable.  But in 1991 circumstances drove us to making the decision to up sticks and move  to the Netherlands, to begin a new life together.
From 1991 till 2004 were we busy building a future with our young family. Sadly I had no time for hunting or dogs. When we moved to St Annaland in Zeeland, I followed the hunt every season and had the itch to get back to my hobby.  In 2004 we bought Tess,  I trained her to the best of my knowledge, but sadly due to ill health she could not hunt, but she turned into a fantastic house pet and is still living with our friends in Druten, she has a great life there..  In July 2006 our Billy was born, he is a fantastic hunting dog,  he is  "my best mate"  In Sept. 2008 Jake joined billy, sadly when he was 20 months we discovered he had cancer and died, this was a very sad time for us, as we had built a good bond together, and I was delighted with his progress.. He had two novice field trials under him with 2nd place on both occasions.   In April 2010 Glen came along, in May 2012 Skye Then in August 2013 I travelled to the Isle of Skye in Scotland to pick up Morag – finally I had the Sgurr bitch I had been waiting for.  My latest bitch Ava was born in February 2015 –  she is from  Clyde Valley's first litter.  Billy and Skye are dogs I use for the rough shooting and driving shoots,  Glen and Morag are the dogs I use in field trials and Ava will also be trained for field trials.
My Dogs  click here to see photo's of our dogs
Billy – Is a very hard working springer with no boundaries, soft in nature but has no problems  with any type of cover, heavy cover to water work is all taken  in his stride.  Retrieving from a pheasant to a goose it always comes back to my hand. This is the most trusted hunting mate I have ever had.
Glen – Is a fast working springer, with a lovely style, he takes on heavy cover just as it's all in a day's work, retrieving is also a gift from nature, his will to please speaks volumes for his character. Lovely looking hard working spaniel,
Glen (Wynn of Dashhill ) –click here
Skye – Is a hard working bitch with alot of power,  she is a hard natured honest bitch. She would have been a great trailing bitch but at 12 weeks old she broke her ankle and was in plaster for 7 months, I use her now  for rough shooting and she comes with me on the duck or pigeon shoot.
Skye (LadyofSkye) – click here
Morag – Is a young bitch with enormous drive,. Morag is very fast with a nice style. she has the passion to go through any type of cover. retrieving is also a gift,  a very biddable bitch and has a will to please that is second to none..
Morag (Sgurr Fuar Tholl)- click here
Clyde Valley  (Fokker/Eigenaar)  –  click here